Usefulness -

91%

Effectiveness -

90%

Authenticity -

100%
Summary
Website content theft is common nowadays. How to deal if someone has stolen your content or you are concern about protecting your data. How to find if someone has stolen your content, images, videos and more.
Bloggers and webmasters are always afraid of plagiarism and content theft. And it has a valid reason according to me. It is a painstaking job to craft a content which can quench reader's thirst.
What if someone has already copied your content? What can you do to prevent someone to copy your content? Unfortunately, you can't!
You can not stop someone to copy the content. Let me tell you why?
Anyone can use data extractor tools to copy and download all the website content.
A thief can write word by word by taking screenshots from his browser and.
Anyone can disable your HTML right-click prevention and other techniques you are using on the front-end of your website.
And some more...
But, but
There are acts, rules, and tools which can help you to find the thief, protect against attacks by helping you to take plagiarized content down.
Steps to Prevent Website Content Theft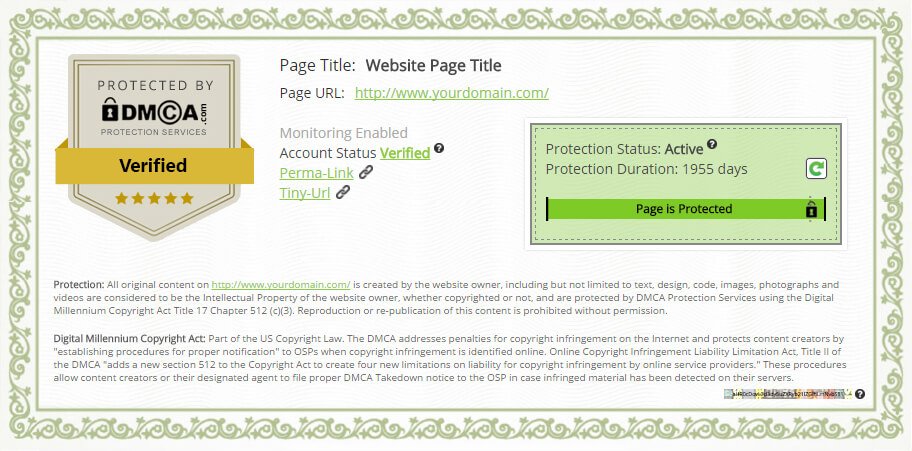 DMCA (digital millennium copyright act) is a law by US govt. which protects theft against intellectual property. DMCA.COM is a website which is helping millions of website owners to prevent and fighting against web-content theft all over the globe. Here are the steps to protect your website content from getting stolen.
Register for a DMCA service by visiting DMCA.COM
You will get a badge to put on your website which will work as an authentication of your website content.
As a paid user, you will be able to claim DMCA about your content theft and ask them to take it down. 
DMCA will monitor your website regularly and will notify you about your content theft.
In case you want to claim regarding your previously stolen data; you will be asked the website content URL, your URL, and some more information.
Services by DMCA to Protect and Discover Stolen Data
DMCA is a verified company having over 10 years on the internet and used by millions of websites. It provides various services to prevent and researching content theft. Here are some of the crucial services provided.
Website protection shied for your website which will deter thieves.
Content Theft Research
Content Monitoring.
Business content protection.
Takedown service for your stolen content.
Media content protection and watermarking service.
DIY (DO IT YOURSELF) service.
How to find if your content has been stolen?
You can easily find websites which have similar content like yours by using Plagiarism checker tools or you can search with google plagiarism checkers to find our who is actually stealing your data.
Also, DMCA does provide a content theft research tool which can help you to find the thieves and notify them about it.
Who Should Use Content Protection by DMCA
Bloggers and website owners with quality content which can be stolen.
Webmaster whose website is get hacked.
E-commerce platform owners which are concern about duplicate products on other sites.
Research paper publishers, writers promoting their content through websites, blogs.
Anyone using internet for quality publishing and want to stay away from content theft.
5 Ways to Prevent Website Content
Displaying copyrighted content notice on footer
Most of the websites already use copyright © symbol for it. It is the proof that your website content is copyrighted by you and no one else is allowed to copy anything. It can prevent you against some new webmasters which are not aware of the copyrighted content.
Watermarking your media (Images/video/audio)
You can watermark images, videos, audio so that people would not use your material. You can use the watermarking services are provided by DMCA.
Using verified DMCA protection 
DMCA provides FREE and PAID services according to user preferences. Unfortunately, free badges are not verified and don't help. However, their paid services are highly effective and used by many.
Using alerts on user action
Webmasters can apply JS alerts which can notify viewers when they will try to copy content on your website. Note that the option might look effective at first, it can be bypassed easily by the individuals.
Conclusion
Plagiarism is a paid for most of the website owners, writers, bloggers, and students. Even though we can not stop people from stealing website content, we can still protect our content to some extent. With the services like DMCA, we can also get our content back by taking thief down.